May 31, 2021
On May 25 and 26, members of the board of education met with six semi-finalists for the position of superintendent of schools. We narrowed our choices down to three finalists. This week, finalists will tour the district, meet with the stakeholder focus group as well as the board of education. We anticipate completing the process and introducing our next superintendent the second week in June.
These are exciting times, and we appreciate your input and support during this process.
John Redman, board of education president
May 17, 2021
On Thursday, May 13, consultants Drs. Lawrence and Ramming visited the district to meet with stakeholders and the board. First, they met with our two student ambassadors who will serve on the stakeholder committee. Then they met with the members of the stakeholder interview committee to review the interview protocol for final round interviews. The following individuals will serve on stakeholder interview committee:
Joe Vandenburg – student
David Lawrence – student
Karen Etheridge – teacher (GH)
Lynn McGovern – teacher (SSSI)
Janice Morgese – support staff (SSSI)
Donna Squillace – support staff (GH)
Susan Moore – administrator
Dana Castine – administrator
Howard Cohen – administrator
Laurie Catal – confidential central office
Helen Arena – confidential central office
Beth Verblaauw – parent (SSSI)
Alyssa Werner Jahrling – parent (GH)
James McAteer – community leader
Bob Vogt – community leader
Last, they met with the board to present all the candidates who had applied for the position. They received more than 30 inquiries and reviewed 20 completed applications with the board. Taking the district's needs into consideration, the vacancy notice, feedback from the community, the board has selected six individuals for first-round interviews.
First-round interviews will occur later this month. Final interviews, tentatively scheduled for the first week of June, will include a tour of the district and community, an interview with the stakeholder interview committee, and an evening interview with the board.
These are exciting times, and we appreciate your input in this process.
Teresa Lawrence, PhD, PMP, CSM
International Deliverables, LLC
NYS & NYC WBE
2019 Buffalo District Small Business Administration Home-based Business of the Year
March 30, 2021
On Tuesday and Friday, March 23 and 26, Dr. Teresa Lawrence met with eight focus groups to solicit their input on three broad areas:
the traits, characteristics, and behaviors the new Superintendent should
possess;
opportunities for the new Superintendent; and
challenges for the new Superintendent.
This input will be included with the online community input survey results and help the consultants develop a profile of the ideal candidate for our district.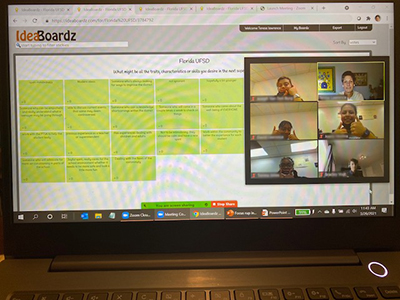 The online community input survey remains open to the community until April 2 and we encourage everyone to respond.