The Florida Union Free School District is a small public school district in Orange County, New York, known for innovative programs and personalized learning. The district takes pride in providing an environment where a lifelong love of learning is ignited.
Our goal is to ensure that every Florida student leaves us with the necessary skills for college and careers, and to be active, productive, and positive adults. With the ability to acquire and disseminate necessary information from a wealth of sources, our students graduate as problem solvers and critical thinkers.
Our school community is approximately 60 miles northwest of New York City and includes the Village of Florida and parts of the towns of Warwick and Goshen. Long established as an agricultural community, Florida is also home to a growing number of professionals, business owners, and commuters.
The Florida Union Free School District offers a wide range of academic programs, activities, and athletics to encourage every student's active engagement in school. The achievements of our students are known throughout New York state. Our district may be relatively small, but our students dream big and accomplish much.
The Florida Union Free School district has about 840 students who are served in two school buildings: Golden Hill Elementary (pre-K through grade 5), and S.S. Seward Institute (grades 6-12).
---
At the Florida Union Free School District, we value the close-knit community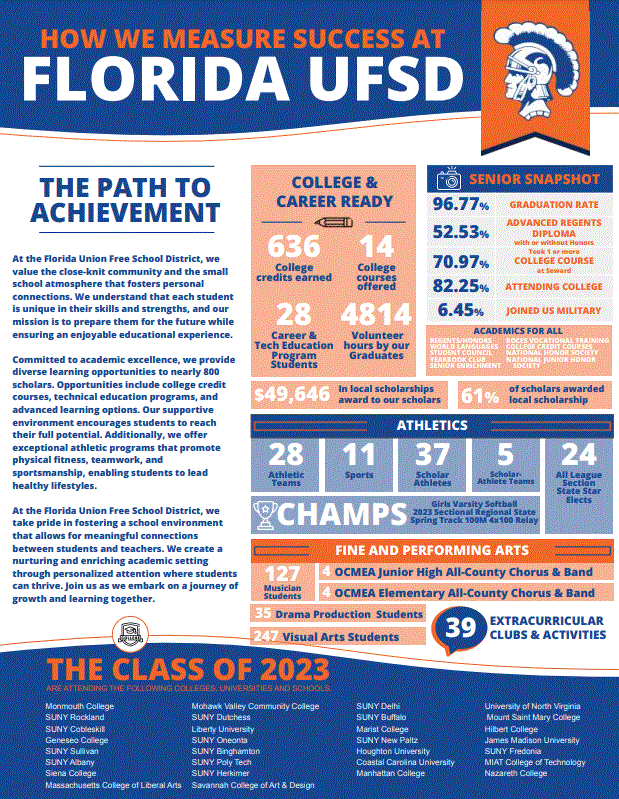 and the small school atmosphere that fosters personal connections. We understand that each student is unique in their skills and strengths, and our mission is to prepare them for the future while ensuring an enjoyable educational experience.
Committed to academic excellence, we provide diverse learning opportunities to nearly 800 scholars. Opportunities include college credit courses, technical education programs, and advanced learning options. Our supportive environment encourages students to reach their full potential.
Additionally, we offer exceptional athletic programs that promote physical fitness, teamwork, and sportsmanship, enabling students to lead healthy lifestyles.
At the Florida Union Free School District, we take pride in fostering a school environment that allows for meaningful connections between students and teachers. We create a nurturing and enriching academic setting through personalized attention where students can thrive. Join us as we embark on a journey of growth and learning together.
Last year, students earned 636 college credits, were offered 14 different college courses, and completed 4,814 volunteer hours. Twenty-eight students took part in Career & Tech Education Programs.
The graduation rate in 2023 was 96.77%, 52.33% graduated with an Advanced Regents Diploma, 70.97% took one or more college courses at Seward, 82.25% attended college this fall and 6.45% joined the U.S. Military.
In 2023, students were awarded $49,646 in local scholarships. This was 61% of the class.
There were 28 athletic teams, 11 sports, 37 scholar athletes, five scholar teams, and 24 All League Section State Star elects.
In the Fine & Performing Arts Department, we had 127 musicians, four OCMEA Junior High All-County students from Chorus & Band, four OCMEA Elementary All-County students from Chorus & Band, 35 Drama Production Students, 247 Visual Arts students, and 39 extracurricular clubs and activities all together.
Finally, some of the colleges and universities our 2023 graduates are attending include many SUNY schools, James Madison University, Marist College, Liberty University, Savannah College of Art and Design, and more.