Teachers new to the Florida Union Free School District had their first official look at their new place of employment on Wednesday, Aug. 30.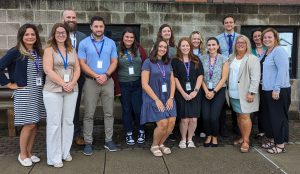 "We are excited to have you join our dedicated team of educators." Superintendent Dr. Lisamarie Spindler said. "Your role in shaping the minds of our students is invaluable, and we are here to support you every step of the way.,"
Eight teachers participated in the new teacher orientation in the S.S. Seward cafetorium.
The new teachers participating were:
Michael Barbariantz, Golden Hill Physical Education Teacher
Nicole Ecker, SS Seward Institute Special Education Teacher
Jennifer Gregory, SS Seward Institute Special Education Teacher
Evan Lally, SS Seward Institute Special Education/Computer Science Teacher
Bianca Mendola, Golden Hill School Counselor
Amber Saunders, Golden Hill Pre-Kindergarten Teacher
Mariah Sullivan, SS Seward Institute Sixth Grade Teacher
Nicole Sullivan, SS Seward Institute High School English Teacher
The event started with a light breakfast, where administrative team members were introduced.
"As you embark on this new journey," Spindler told the teachers, "we want to provide you with some guidance to ensure a smooth transition."
She offered information on the Spartan Spirit, Florida's student-centered approach, collaboration and teamwork, community understanding, effective classroom management, leveraging resources, professional growth, and open communication.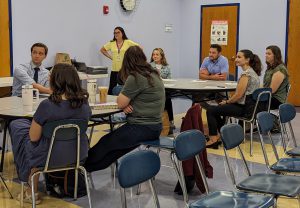 The following is the information she provided to the new teachers:
Embrace Our Spartan Spirit: Our school colors of blue and orange symbolize unity, strength, and a commitment to excellence. As Spartans, we strive for greatness in everything we do inside and outside the classroom.
Student-Centered Approach: At Florida Union Free School District, our students are at the heart of all we do. Tailor your teaching methods to cater to varied learning styles and create a nurturing environment where every student can thrive.
Collaboration and Teamwork: Collaboration among colleagues is key to our success. Reach out to your fellow teachers, attend department meetings, and engage in professional development opportunities to enhance your skills.
Understanding Our Community: Know our community's values, needs, and expectations. Building strong relationships with students, parents, and the community fosters a supportive learning environment.
Effective Classroom Management: Establish clear classroom routines and expectations to create a positive learning atmosphere. Consistent communication with students about behavior and academic goals is crucial.
Leverage Resources: Familiarize yourself with our curriculum, resources, and technology available to you. Our district offers various tools to enhance your teaching methods and engage students effectively.
Professional Growth: We encourage continuous learning and growth. Use professional development opportunities, workshops, and mentoring programs to refine your skills and advance your career.
Open Communication: If you have questions, concerns, or ideas, don't hesitate to contact your department heads, mentors, or myself. Effective communication is the cornerstone of our success.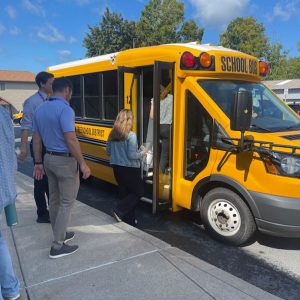 The new teachers also learned about school software and technology use, reviewed the Code of Conduct and the Dignity for All Students Act, and learned more about the district's use of Response to Intervention and Multi-Tiered System of Support.
Before lunch, the group went on a bus tour of the district to offer "a holistic understanding of our school community and its unique offerings," according to the district.
The Florida Teachers Association hosted a luncheon for their new colleagues to give them an opportunity to meet and to ask questions of the current teachers.
The first day of school for Florida UFSD is Tuesday, Sept. 5.