Florida Union Free School District believes that participation in sports provides a wealth of opportunities and experiences that benefit students in the classroom and in life. The district offers students opportunities to participate in a wide-range of various sports across three seasons. Florida UFSD is a member of the New York State Public High School Athletic Association, competing as a member of Section IX and the Orange County Interscholastic Athletic Association (OCIAA).
The mission of New York State interscholastic athletic programs is to foster the quest for excellence by creating an educational and competitive experience within an atmosphere of sportsmanship. Successful programs develop individual and team potential by promoting high standards of competence, character, civility and citizenship.
---
Spartan News
Matt Stam selected Varisty 845 baseball first-team All-Stars
CONGRATULATIONS to Spartan baseball athlete Matt Stam! Matt, a senior, was selected Varsity 845 baseball first-team All Stars 2019! 
Alexa Roach named Softball All-State third-team in her class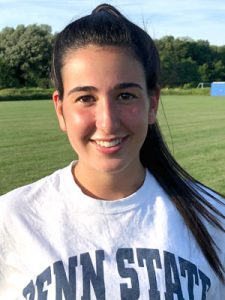 CONGRATULATIONS to Spartan softball athlete Alexa Roach! Alexa, a junior and and shortstop, was named 2019 Softball All-State third-team in Class C. 
S.S. Seward Institute is proud to announce the
Varsity 845 Scholar/Athlete nominees for April/early May
Andrew Kircher
Andrew is a senior on Seward's varsity baseball team. He has played on the varsity team for three years and has had a tremendous impact in its success. Andres shows leadership and is a true team player;   he plays multiple positions when not pitching.
Kailey Stowoski
Kailey is in grade 8 and is our starting pitcher on our varsity softball team at Seward. She has made an incredible impact on the team, which lost valuable players this season to  graduation and injuries. Kailey's jump from modified to the varsity level was a smooth one. Although the team is already successful, the future is bright with her presence on the mound. 
Three Spartans make BCANY All-Star team
Congratulations to Grant Gravelle, Daryll Walker, Brandon Serrano for being selected to the Basketball Coaches Association on New York (BCANY) All-Star team for Class C/D!
In other honors, Matt Stam was selected as the Player of The Year, and the team  received the BCANY Sportsmanship Award.
Announcing the Spartan Winter Scholar-Athletes!
Elizabeth Wesonga
Angie Squillace
Kassidy Degroat
Shannon Sgombick
Josely Medina
Ari Campos
Alyssa Viggiani
Madison Dazi
Katelyn Finnerty
Emily Revella
Chris Beattie
Kelly Sgombick
Nora Howell
Andrew Mulhare
Grant Gravelle
Christian Stangeby
*Girls Basketball Scholar Athlete Team Award
February's Athletes of the Month
The S.S. Seward Institute Athletes of the Month are Christian Stangeby and Zoe Babcock.
Christian Stangeby
Christian is a senior swimmer
that shadows at Warwick. He is a
member of the National Honor
Societyand is currently ranked
fifth in his class.
This is Christian's second year
swimming and he  made it to
States both times. Christian races
in the 50 Free and the 100 Fly.
Zoe Babcock
Zoe is a member of the
National Honor Society and
is currently ranked sixth in her
junior year. She has played
on the Varsity Soccer team
for two years.
Zoe also has been a part
of our varsity cheer squad
for the past three years.
Her current GPA is 92.5.
January's Athletes of the Month
Angela Squillace
Angela is a two-sport athlete. This is her senior year and she has made a tremendous amount of strides to help improve as a player and a teammate. Her grades reflect the hard work she puts in with a 95.26 GPA.
Andrew Mulhare
Andrew is a hard-working junior. He is a three-sport athlete and balances his school work with a varsity level commitment. Andrew is a game changer, playing valuable minutes on basketball team.
December's Athletes of the Month
Nora Howell
Nora is a second-year varsity basketball player. She has grown tremendously in this sport. She is a complete team player. Nora's grades are above 90.
Grant Gravelle
Grant GravelleGrant Gravelle is a third-year varsity basketball player. He become a full time starter and tri-captain. He is a complete team player. Grant's grades are above 90.
Two Spartans join elite 1,000 Point Club for basketball
History was made twice during the 2017-2018 winter season, as two Spartan hoopsters joined the Seward's elite 1,000 point club.
The first to join was senior guard Erika Straub. Erika hit a three-pointer from the left side against Sullivan West on Jan. 29, 2017. Erika ends her Seward career with 1,120 points.
Junior guard John Guerra joined the club just 17 days later. John also hit a three-pointer from the left side against Tuxedo on Feb. 15. John concludes his junior year with 1,041 career points.
SEWARD 1,000 POINT CLUB
Michael Hoyt:  1,722 (2003)
Jenny Leo:  1,663 (1987)
Colleen Leo:  1,646 (1988)
Megan Ryan:  1,349 (1993)
Christine Kirby:  1,328 (1998)
Joe Hoyt:  1,300 (2005)
Rena Gorish:  1,261 (1999)
Kathleen Folkl:  1,188 (2008)
Erika Straub:  1,120 (2018)
Scott Glowaczewski:  1,057 (2011)
John Guerra:  1,041 (2019)
Karen Costakis:  1,038 (1990)
David Oliver:  1,034 (2011)