Florida Union Free School District believes that participation in sports provides a wealth of opportunities and experiences that benefit students in the classroom and in life. The district offers students opportunities to participate in a wide-range of various sports across three seasons. Florida UFSD is a member of the New York State Public High School Athletic Association, competing as a member of Section IX and the Orange County Interscholastic Athletic Association (OCIAA).
The mission of New York State interscholastic athletic programs is to foster the quest for excellence by creating an educational and competitive experience within an atmosphere of sportsmanship. Successful programs develop individual and team potential by promoting high standards of competence, character, civility and citizenship.
Parent information and alerts for sporting events
Did you know?
You can access OCIAA schedules by following this link: http://section9sports.org

Click on school schedules, select your school-specific schedule page and go!

You can subscribe to game change notifications for your child's teams:

Go to your school's schedule page and click the link to subscribe;
Receive text or email of notifications of dates, times, site changes and cancellations.

You can follow OCIAA and Section IX athletics on Twitter:

@OCIAASport
@SectionlXSports
---
Sports Updates 2022-2023
Spring sports starts Monday 3/13 for HS and Monday 3/20 for Modified
SPARTAN ATHLETIC NEWS
Congratulations OCIAA DIVISION V First Team All Stars for Boys Basketball:
Tony Durante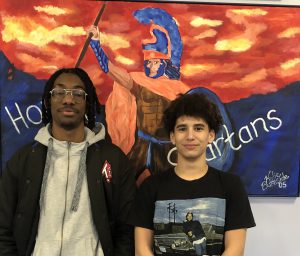 Congratulations to Kayla Valenti and Shannon Sgombick for being selected to Section IX's Top 50 Basketball Players. 
Shannon Sgombick also received CO-MVP for the Class C/D of Section IX.
Coach Joe DiMattina received Coach of Year by his peers for Class C/D of Section IX.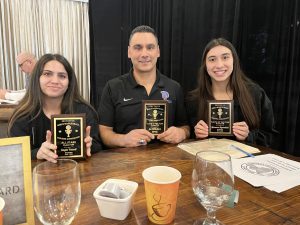 February Scholar Athletes
Brooke Ehlers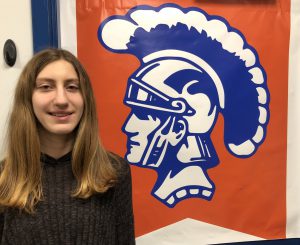 Brooke is an 8th grader who was promoted from the jv girls basketball team to the varsity team for the last 5 games including the postseason. Her effort, toughness and versatility proved to get her playing time and a start in the Class C Finals.
Alec Pawliczek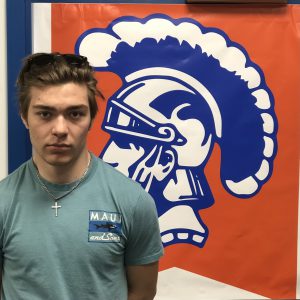 Alec is a senior on the boys varsity basketball team. Alec is a first year varsity basketball player. He is a defensive specialist on the court. His effort and energy provides his teammates with a needed boost of energy every time he steps on the court.
Kendall Dazi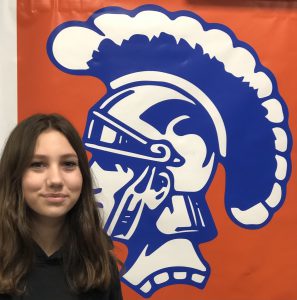 Kendall is a Freshman on the Varsity Cheer team and is a great student! Her first year of Varsity Cheer she was a strong backspot and tumbler. She worked on perfecting her back handspring and getting her back tuck. She was a great asset to the team and look forward to seeing what the next few years have in store for her and the team.
January Scholar Athletes 
Kendall Guerra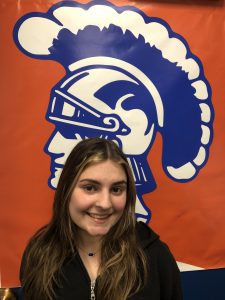 Kendall is a Junior and is currently in the nursing program at BOCES. She is one of the flyers on the Varsity Cheer squad. Kendall is one tough flyer and is continuing to improve and try new things. She is one of our main tumblers as well. 
Josh Medina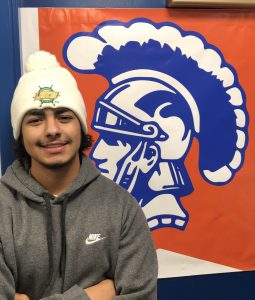 Josh is a Senior. Josh is a second year Varsity Boys Basketball player who excels on the court and in the classroom. Josh is a hard working role player for the basketball team. He prides himself on rebounding and defense.
Shannon Sgombick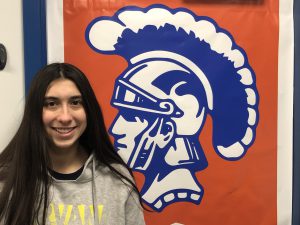 Shannon is a Senior and is currently playing in her 5th season on the Girls Basketball Varsity team. She is a leader on and off the court. Shannon currently has 1,256 career points, averaging a double-double this season thus far.
Shannon Sgombick was selected to the All State Class C Third Team for soccer.

December Scholar Athletes

Hanna Perez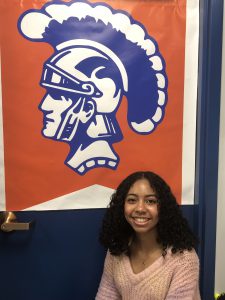 Hanna Perez is a sophomore Cheerleader. She is involved in many school activities and clubs around the school. Hannah is an all around hard worker and brings joy to whatever she is doing. No surprise she is a key component to the Varsity Cheer Team. Hannah is in her second year of cheer as a flyer. Her determination to hit stunts and try new things to help her team out is truly one of a kind! Great job Hannah on and off the cheer mat! 
Tony Durante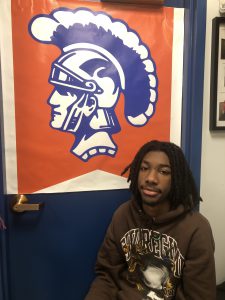 Senior Basketball player. Tony Durante. Tony is a second year Varsity Basketball player who excels on the court and in the classroom. Tony is a starter and team leader in rebounding on the court. Tony is currently ranked 23rd out of 61 in the class of 2023. 
Kayla Valenti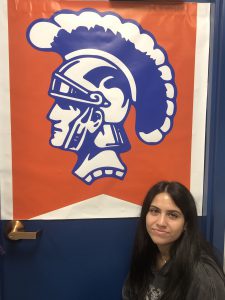 Kayla is a 9th grader starting on the varsity girls basketball team for the second straight year. She increased her skill development in the off season and has become the second leading scorer in the first 5 games of the season. She was selected to the All-Tournament in the Seward Invitational and is a big part of the early winning success.
Girls and Boys Soccer: Individuals were selected for the 2022 Season
Shannon Sgombick C/D All Star & All Section
Maddie Rosado C/D All Star
Jason Mitchell C/D All Star & All Section
Alec Pawlicek C/D All Star
Joe Buchalski C/D All Star
Fall Team Scholar Athlete

Girls Soccer & Volleyball
We also had 22 Scholar athletes this Fall
Taylor Vogt
Josh Medina
Joe Santiago
Maddie Rosado
Kristen Celiz
James Walsh
Sophia Brady
Camila Fuentes
Cameron Gafa-Byrne
Shannon Maher
Maris Neuman
Stephanie Reicherter
Eliana White
Will Orlando
Timothy Raines
Derrick You
Abby Orlando
Kailey Stolowski
Jackie Tomassi
Saniya Walker
Kendall Dazi
Mikaelah Schreibeis
Jason Mitchell was selected to the 1st team Small School All State for soccer.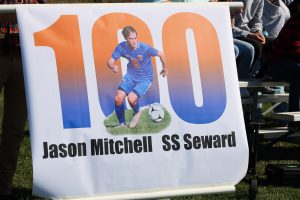 Congratulations to Kailey Stolowski (1st Team), Abby Orlando (2nd Team) and Ava Kirschke (Honorable Mention) for being selected to the Class D Volleyball All Star Team.

Congratulations to Joe Santiago, was named by the Section IX Football Coaches Association to the All League Class C Team, the All Star and All Section Team which recognizes the top 48 players in Section IX!!! Special thanks to Chester Academy!!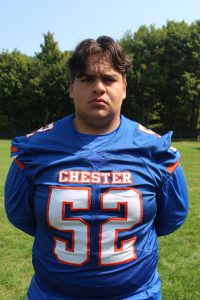 Congratulations to Volleyball player, Abby Orlando as she hit a milestone on November 2nd, 2022 with her 500th career assist!
Scholar Athletes of the Month- October 2022
Shannon Sgombick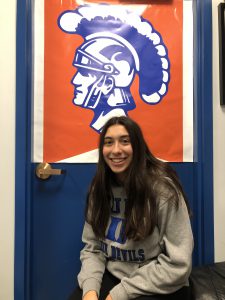 A senior. Shannon is our varsity soccer starting midfielder.
Shannon scored her 28th goal of the season becoming the 2nd
leading scorer in Seward history with 148 career goals. Shannon
is a true leader as she helped an inexperienced team to 10 wins
on the season. She also leads the team in assists with 11.
James Walsh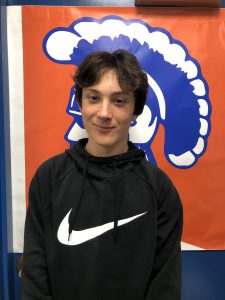 James is currently a sophomore who competes on the
Seward cross country team. James comes to practice every day
ready to work hard. He has shown great improvement throughout
the season by lowering his previous personal best times from
2021 by over a minute on multiple courses this season.
Joe Santiago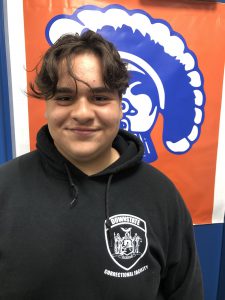 Joseph Santiago has a complete repertoire of "student tools"
that allow him to find success in the classroom and on the football
field. Joseph is well regarded by his teammates and coaches,
displays critical thinking skills beyond his years and
communicates clearly.
Student Athletes of The Month – September 2022
Abigail Orlando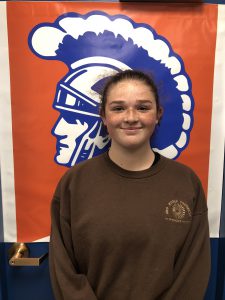 Abigail is a Sophomore starting setter and right side hitter on the varsity volleyball team. She is a leader on the court in both her mentality and skill.  She's already racked up 40 kills, 64 Aces, 118 Assists, and 43 digs so far this season. 
Taylor Vogt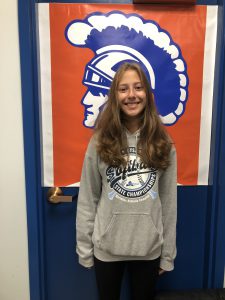 Taylor is a Sophomore starting on the varsity girls soccer team and a member of the girls XC team. Taylor has already improved in her PR's at multiple meets thus far. In soccer, she has 5 goals (second on the team) and 1 assist in 7 games thus far.
Joe Buchalski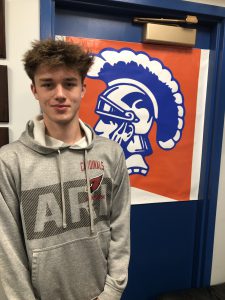 Joe is a Senior starting defender. Joe has had a spectacular September making many saves stopping multiple goals
Spartans named all-state in softball
Congratulations to Kailey Stolowski, Katie Mulhare and Kaitlin Stolowski who were named all-state for softball this past weekend. Kailey was named all-state first team, while Katie and Kaitlin were named second team! Way to go Spartans!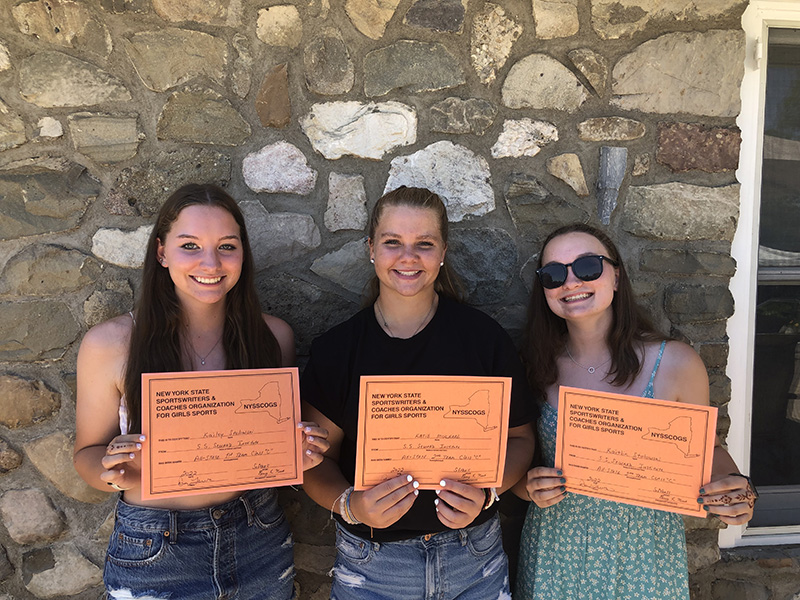 Seward softball team has incredible 2022 season
Congratulations to the 2022 Seward Spartan softball team. This group of young women went all the way to the state final four this season. Great job to all!
Congratulations to our awesome coach, Don Lewis.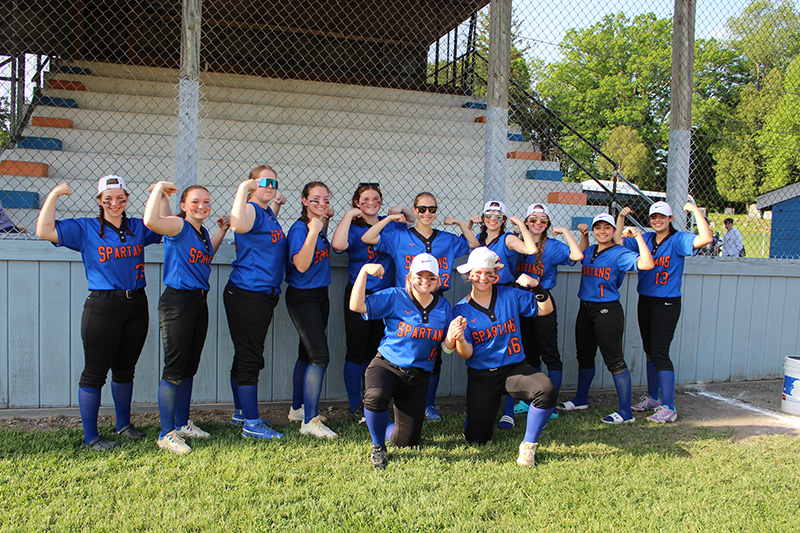 2022 Seward Softball Team
Haley Carmack
Sophia de Jong
Camila  Fuentes
Raquel Hamling
Brook Irizarry
Kristen   Matuszewski
Katie Mulhare
Abby Orlando
Stephanie Reicherter
Kaitlin Stolowski
Kailey Stolowski
Taylor Vogt
Aidan Finley and Kailey Stolowski named May student-athletes of the month
Aidan is a senior who went 4-0 in the month of May as Seward's starting pitcher. He brings versatility and energy every game, even when he doesn't pitch.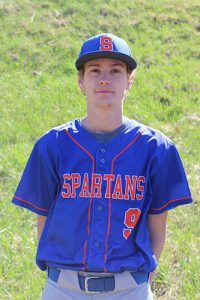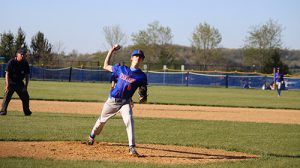 Kailey is a junior who led her team to a division and sectional title in softball this season as the starting pitcher. Kailey went undefeated in May with a 9-0 record. Her team is still playing in the postseason.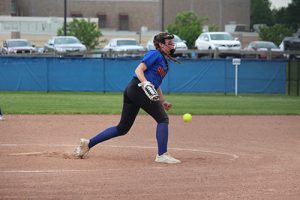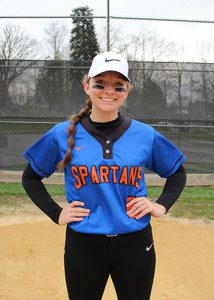 Softball, boys spring track and field earn scholar-athlete team status;
Congratulations to our spring scholar athletes for 2022. This spring, the  softball team received team recognition as did the boys spring track and field team. In addition,  15 individuals earned the scholar-athlete designation.
At the end of each sports season, the New York State Public High School Athletic Association (NYSPHSAA) honors those teams and individuals that excel academically.
To receive scholar-athlete team recognition, the team's average GPA must be greater than or equal to 90 for 75 percent of the roster.
If a team does not meet the scholar-athlete criteria, the individuals on that team with a 90 or above GPA are named individual scholar-athletes.
Spring Scholar-Athletes:
Alex Cotes-Aguilar
John Cutrona
Joshua Medina
William Orlando
Haley Carmack
Camila Fuentes
Raquel Hamling
Kristen Matuszewski
Abigail Orlando
Stephanie Reicherter
Kailey Stolowski
Kaitlin Stolowski
Taylor Vogt
James Walse
Katie Mulhare
Team Scholar-Athlete Awards
Softball
Boys Spring Track
Cheers to our seniors softball players
Big congratulations to our senior girls softball players Katie Mulhare and Sophia de Jong! Katie and Sophia are concluding their athletic careers here at Seward and were recently honored by their coaches, teammates and families for their contributions on and off the field.
Great job and best of luck to you both in the future!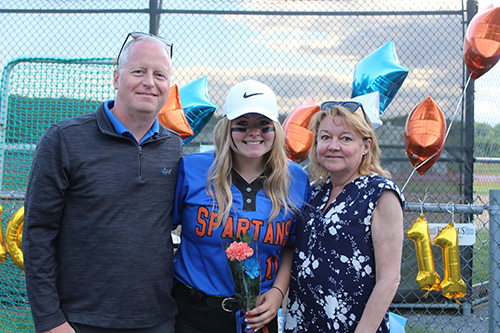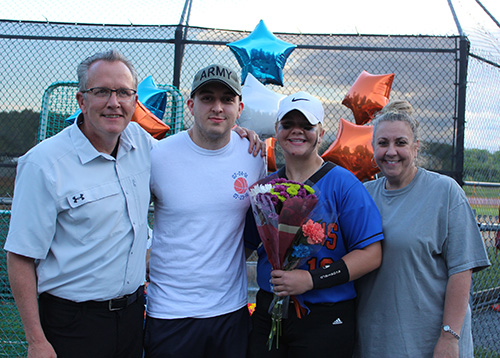 Kailey Stolowski named TH-R softball player of the week
Congratulations to Kailey Stolowski for being named softball player of the week (May 16-22) by Times Herald-Record readers. Kailey has had an extraordinary season for the Spartans. Read the TH-R story here.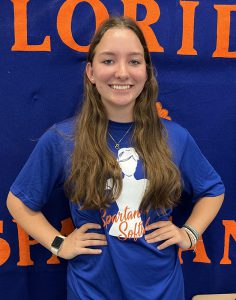 Coach Steele reaches 300 wins
Big congratulations to Coach Bill Steele who won his 300th game as Seward baseball coach, quite a milestone not often attained. What makes it even more special is that Coach Steele also had his 300th win in the fall as the varsity soccer coach.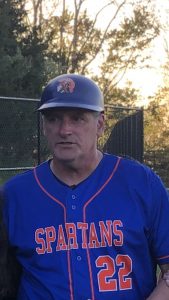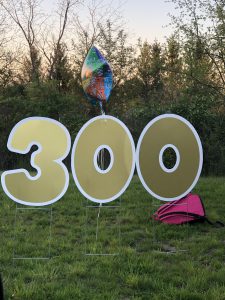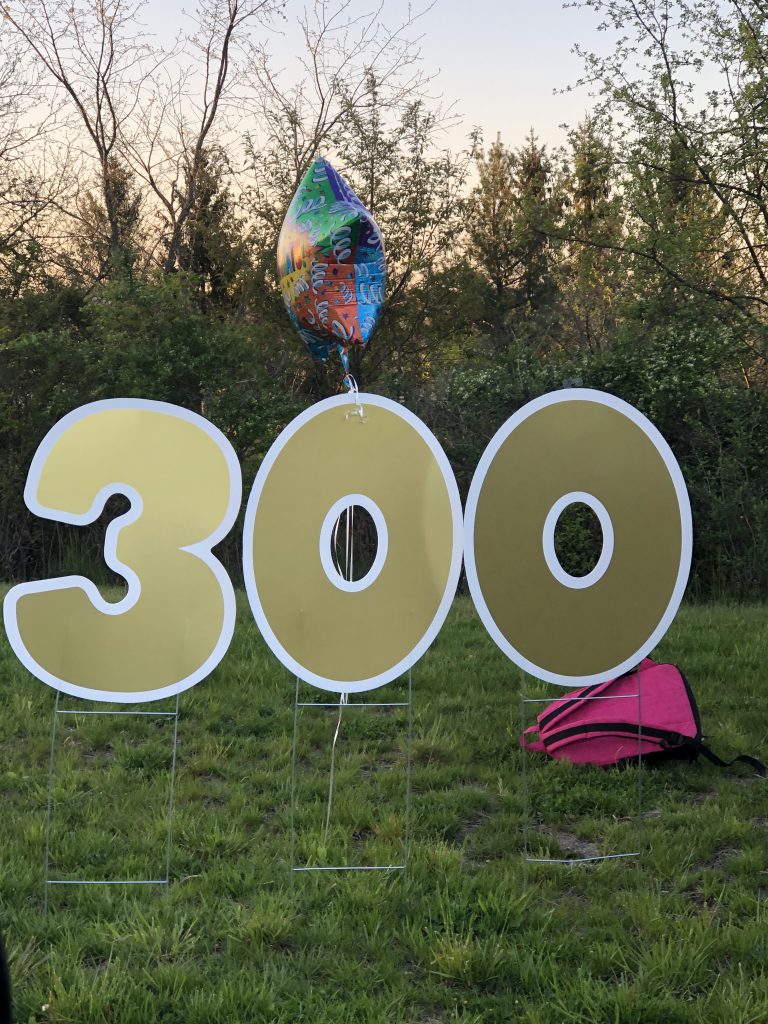 Coach Steele has been the Seward varsity baseball since 2002. The 300 wins were achieved in 20 seasons (the 2020 season was canceled).
"The 300 wins in 20 seasons means that my baseball program has been consistently successful," said Coach Steele. "It means that I have been blessed with good players and great parents."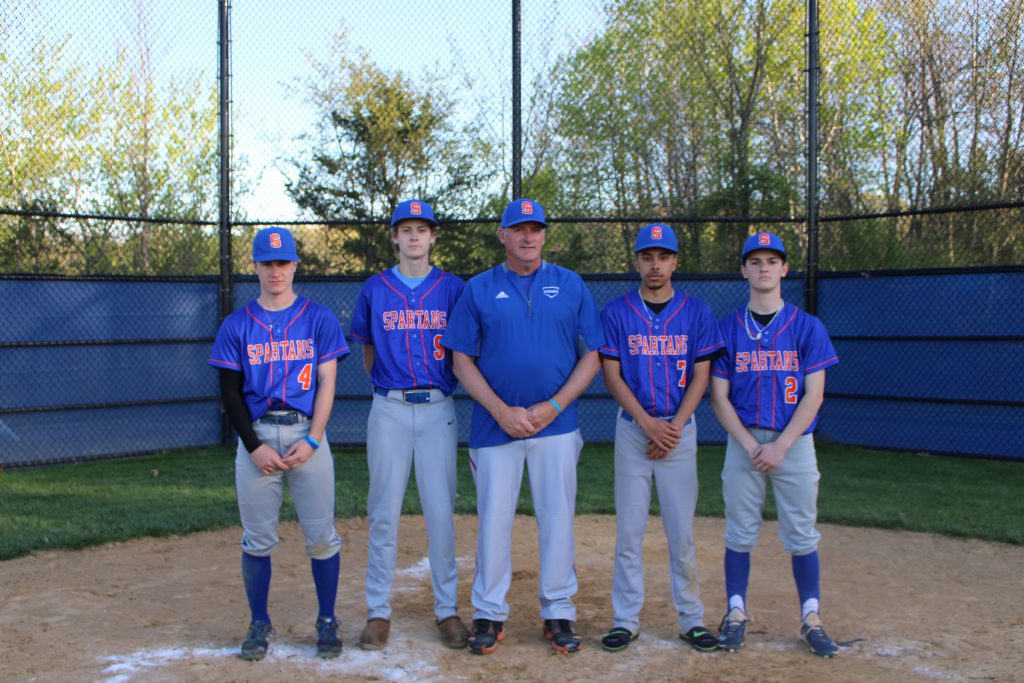 McKenzie Richner, Katie Mulhare sign to play college athletics
Congratulations to seniors McKenzie Richner and Katie Mulhare, Seward student/athletes who will continue their athletic careers in college.
McKenzie will play soccer at Division III Mount Saint Mary College.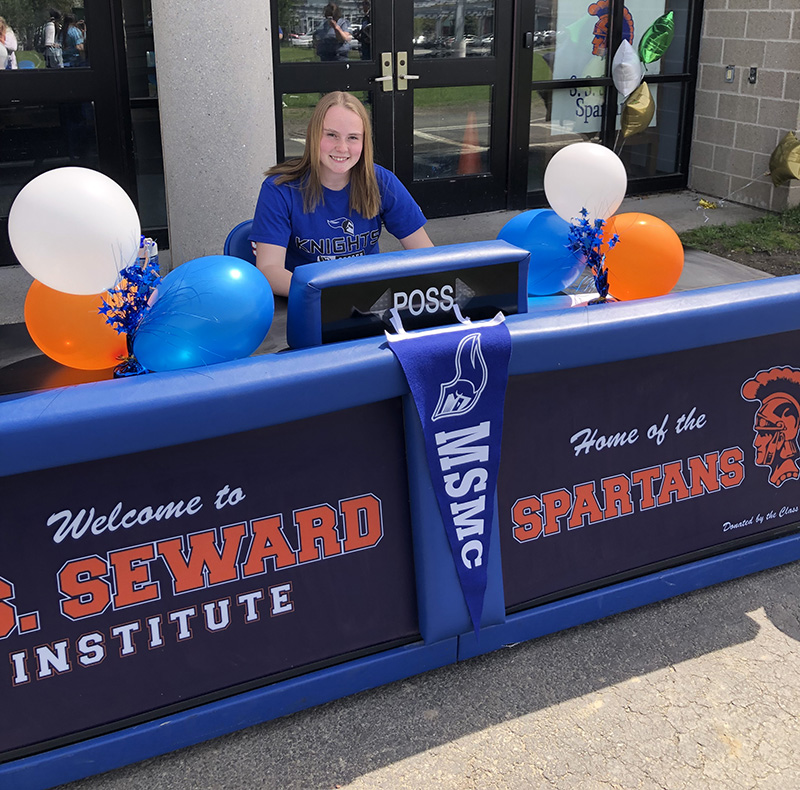 Katie is heading to Marywood University in Scranton, also a Division III school, to play softball.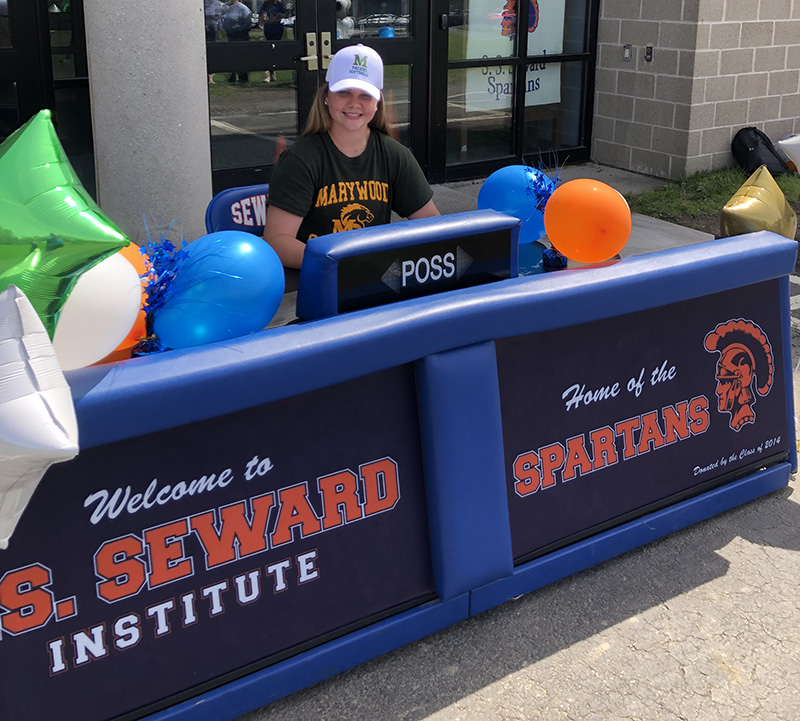 Best wishes for much success to both McKenzie and Katie as they venture out and compete on the next level.
Girls basketball team, 10 individuals named scholar athletes
Congratulations to our winter scholar athletes for 2022. This winter, the girls basketball team received team recognition along with 10 individuals.
At the end of each sports season, the New York State Public High School Athletic Association (NYSPHSAA) honors those teams and individuals that excel academically.
To receive scholar-athlete team recognition, the team's average GPA must be greater than or equal to 90 for 75 percent of the roster.
If a team does not meet the scholar-athlete criteria, the individuals on that team with a 90 or above GPA are named individual scholar-athletes.
Scholar Athlete Team:
Individual scholar-athlete status:
Kaitlin Stolowski
Kassidy DeGroat
Camila Fuentes
Shannon Sgombick
Joshua Medina
Bernard Rebaya
William Shannon
Kayla Valenti
Kyra Falone
Calleigh Perrino
Shannon Sgombick honored by NYS sportswriters/coaches
Shannon Sgombick was selected to the 10th All-State Class "C" Basketball Team by New York State Sportswriters and Coaches Organization for Girls Sports. Congratulations to Shannon on an awesome season!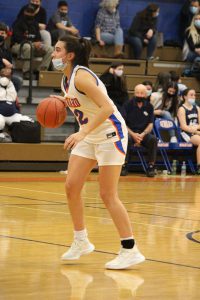 Boys' varsity basketball team earns sportsmanship award
Congratulations to our boys' varsity basketball team for receiving the BCANY Sportsmanship Award for Class C.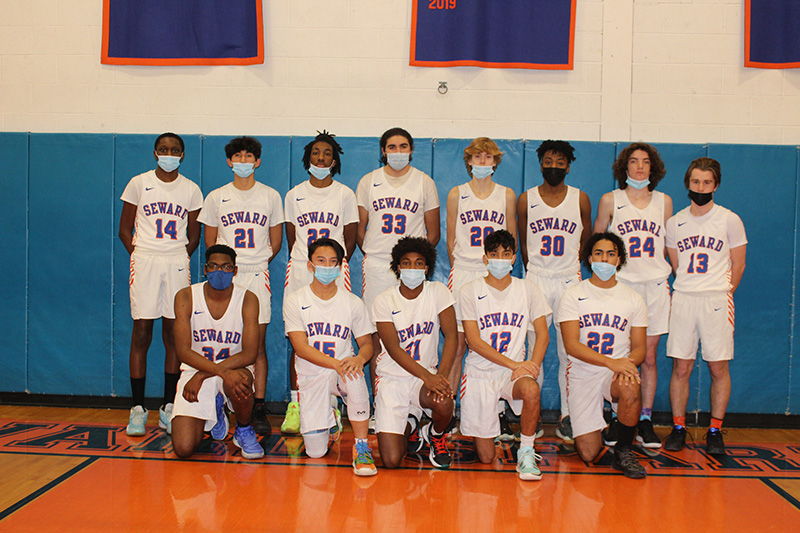 Four Spartans chosen to All-Division V Team
Congratulations to four of our varsity basketball players who were selected to the All-Division V Team:
Gavin Acuna
Cole Buchalski
Kassidy DeGroat
Shannon Sgombick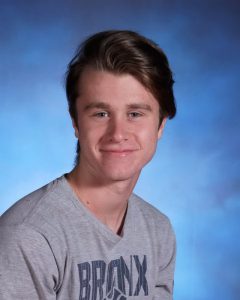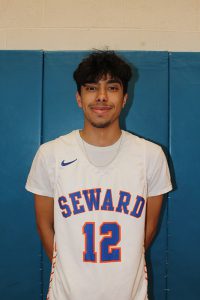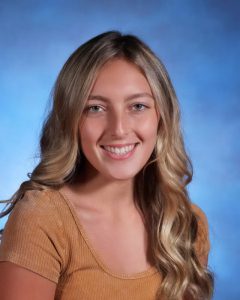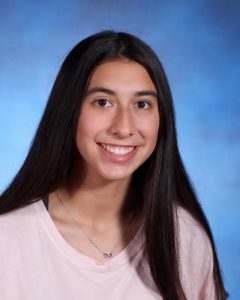 In addition, Shannon Sgombick was selected to the BCANY's (Basketball Coaches Association of New York) Top 50 Girls Basketball Players in Section 9. Now that is simply awesome!
Shannon Sgombick and Tony Durante are the Seward  athletes of the month for February
Shannon  is a junior, playing in her fourth season on the Seward varsity girls' basketball team. In addition to being a dedicated student in the classroom, Shannon leads in most offensive and defensive categories. She just completed a milestone of 1,000 career points. Shannon ended the 2021-2022 season with 1,004 career points. As a captain, she brings leadership, experience, dedication to her team and the sport of basketball.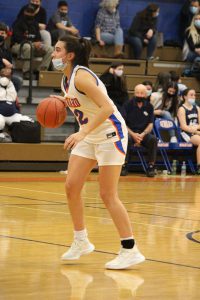 Tony is a junior center on the Seward varsity boys' basketball team. In addition to being a dedicated student in the classroom, Tony is a defensive presence for the Spartans. His shot blocking and rebounding led the Spartans to the Section IX playoffs. Tony had his best offensive games down the stretch this season.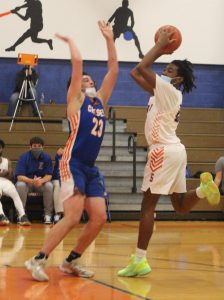 Melissa Cutrona and Joshua Medina are the Seward athletes of the month for January
Melissa is a sophomore who was recently inducted into NHS and is a varsity cheerleader. Melissa is dedicated on and off the mat. Her versatility, dedication, and commitment to her team is second to none.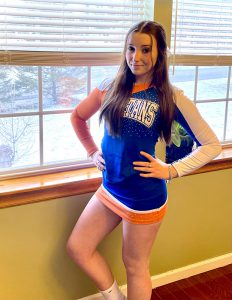 Joshua Medina is a junior on the varsity basketball team. He is an extremely versatile team-oriented player. Joshua  brings constant energy to the  team. His dedication and commitment does not go unnoticed.