Florida Union Free School District believes that participation in sports provides a wealth of opportunities and experiences that benefit students in the classroom and in life. The district offers students opportunities to participate in a wide-range of various sports across three seasons. Florida UFSD is a member of the New York State Public High School Athletic Association, competing as a member of Section IX and the Orange County Interscholastic Athletic Association (OCIAA).
The mission of New York State interscholastic athletic programs is to foster the quest for excellence by creating an educational and competitive experience within an atmosphere of sportsmanship. Successful programs develop individual and team potential by promoting high standards of competence, character, civility and citizenship.
Parent information and alerts for sporting events
Did you know?
You can access OCIAA schedules by following this link: http://section9sports.org

Click on school schedules, select your school-specific schedule page and go!

You can subscribe to game change notifications for your child's teams:

Go to your school's schedule page and click the link to subscribe;
Receive text or email of notifications of dates, times, site changes and cancellations.

You can follow OCIAA and Section IX athletics on Twitter:

@OCIAASport
@SectionlXSports
---
SPARTAN ATHLETIC NEWS
Two Seward seniors recognized with OCIAA scholar-athlete awards
CONGRATULATIONS to Seward's seniors Christopher Beattie and Isabel De Los Santos, recognized with the 2020 Senior Scholar-Athlete Award of the Orange County Interscholastic Athletic Association!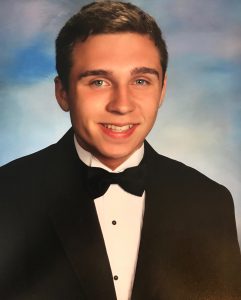 Christopher Beattie is a standout varsity football, basketball and baseball athlete. His activities and accomplishments include the President's Achievement Award (grades 9-11), participation in the high school chorus (grades 9-12), and volunteer work with the Warwick Valley Humane Society. Christopher was captain of the varsity basketball team in 2019-20 and received a total of six varsity letters in his career as a Spartan athlete. Christopher's grade point average stands at 3.6 and he ranks 10th in his class. In the Fall, Christopher will go on to pursue a major in sports management.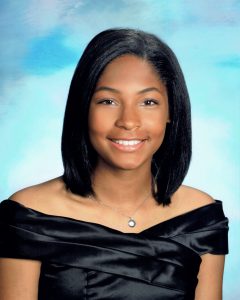 Isabel De Los Santos is a standout varsity soccer and softball athlete. Her activities and accomplishments include the National Honors Society, the Sojourner Truth award for foreign language, Class Secretary, membership in the Art Club and the Spanish Club, and teaching Sunday School at her church. Isabel's athletic honors include varsity letters in both sports. Her grade point average stands at 3.6 and she ranks 11th in her class. In the Fall, Isabel will attend Seton Hall University to pursue a degree in occupational therapy.
OCIAA Scholar Athletes must rank in the top 20% of their class, participate in at least one varsity sport, excel as athletes, and demonstrate outstanding citizenship.
---
Alexa Roach named V845 girls basketball all-star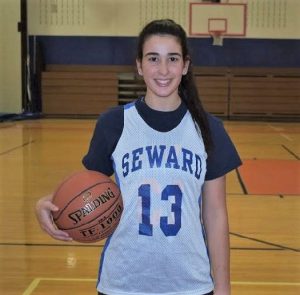 CONGRATULATIONS to Alexa Roach, named as one of The Times Herald Record V845 girls' basketball all-star, 2nd team!
Roach, Seward's #13 senior forward, scored 548 points this season, averaging 24.9 points per game. She collected 228 rebounds at a clip of 10.2 per contest; delivered 58 3-pointers, with a third of her attempts made from outside the perimeter. She was a 79.6 percent free-throw shooter.
Go Alexa! Go Spartans!
---
February Student-Athletes of the Month
Shayna Marcano, a junior, is a two-year varsity cheerleader. The experience Shayna brings to Seward's program will carry into her senior year and continue to flourish. Her coaches are looking forward to next year's squad and Shayna's continued contributions.
Andrew Mulhare, a senior, is a two-year varsity basketball player. Andrew brings versatility, dedication and athletic ability to the court. He stands as a leader and a model for all our younger players.
---
January Student-Athletes of the Month
Shawn Behrent, a senior, is a two-time varsity basketball player. This year he secured a starting role and is the number one, 3-point shooting threat. He brings a lot to the game with his versatility.
Shannon Sgombick, a freshman, is a two-year starting point-guard on the varsity basketball team. Her skills and awareness on the court are a major asset to the team's success. 
---
December Student-Athletes of the Month
Josely Medina, a junior, has played and started on the girls' varsity basketball team since she was a freshman. She brings versatility to the program with her ball handling and shooting ability. Josely's dedication to athletics and academics alike clearly shows with a team record of 8-1 and a GPA of 97.
Gavin Acuna, a sophomore, is getting his first varsity experience. He worked hard in the off-season to win the starting PG position. His team spirit and court awareness as a player impresses coaches around the league. Gavin's current GPA is 87.
---
Spartan soccer athletes make local All-State selection
Congratulations to Seward's soccer athletes Alexa Roach, a senior, and Shannon Sgombick, a freshman, on making the local All-State, Class C, fourth-team selection—and their outstanding contributions to the Spartan girls soccer team this season!
---
Seward's boys cross country team captures Class D title, advances to state's
Seward's boys cross country team captured the Section 9 Class D title after defeating Eldred on Nov. 6. Jared Verblaauw was the highest finisher for the Spartans crossing the finish line in 19:27. Now they're off to the state competitions.
Seward's girls soccer team wrapped season with section title

Seward's girls soccer team captured the Section 9 Class C title with a 4-3 penalty-kick win over Millbrook on Oct. 30. The Spartans finished the season 14-1-3 as a regional finalist.