Be kind. Be respectful. Be yourself.
At Golden Hill Elementary, we nurture each student's social, emotional, and intellectual growth. We emphasize 21st Century skills of creativity, collaboration, communication, and innovation, and we are committed to the development of the whole child.
Our teachers, staff members, and administrators believe that elementary school is where the love of learning is ignited. Our mission is to inspire young citizens in a diverse and changing world; to give students the foundation for a lifetime of educational experience in a safe and enriching environment; and to build a strong bridge from the elementary to our middle school and high school programs at S.S. Seward Institute.
We also believe that school can be fun, and each day we greet our students with music and smiles. We offer a wide range of enriching activities. After school enrichment activities include: cartooning, yoga, painting on canvas, and Junior Great Books. Golden Hill Elementary enjoys and encourages community and parent involvement, which we know  contributes significantly to our school and its programs.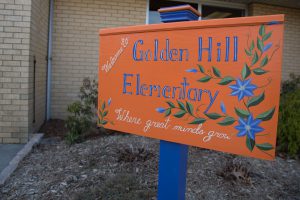 In 2014, Golden Hill welcomed our first pre-kindergarten group. Our learning community now includes approximately 380 students in grades pre-K-5.
History
Golden Hill Elementary School was built in 1975. The first day of classes was held on Jan. 12, 1976. Prior to that time, elementary classes were held at S.S. Seward Institute. With the move of the elementary classes into a new building, S.S. Seward became a secondary educational facility, housing grades 7-12.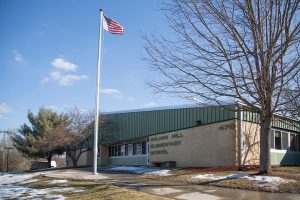 In 1995, voters in the District approved the addition of a Middle School wing to S.S. Seward for grades 6-8. This new middle level program began in September 1997, resulting in Golden Hill being home to students in grades K-5 only for the first time.
In 2000, voters again approved a capital project for another addition – six new classrooms – to Golden Hill. This project also upgraded mechanical and electrical systems and provided the necessary infrastructure to meet the demands and use of instructional technology.
In 2008, Golden Hill received new windows, flooring, bathrooms in the primary wings and other important updates. In 2010 and 2011, the District undertook a substantial energy audit and the school's lighting, ventilation, and heating systems were improved, along with other energy saving measures.
Most recently, voters approved the 2019 capital project, which will bring safety and security enhancements to Golden Hill. Other upgrades include air conditioning for the cafeteria, the reconstruction of grass and clay athletic fields, upgrades to the kitchen, and the parking lot will be repaved.