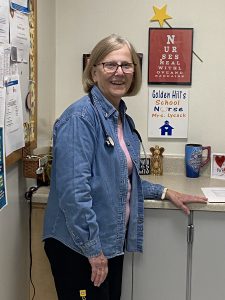 Marlene Lysack considers nursing to be her calling in life. She never wanted to do anything else, which might help explain why she's been the school nurse at Golden Hill Elementary School for 37 years.
The Goshen native earned her Bachelor of Science in Nursing from Russell Sage College, Troy, in 1973. She worked for several years at Arden Hill Hospital in the Special Care Unit before leaving to raise her family. When her son started kindergarten at Golden Hill she volunteered to help at the school.
"They had only one nurse for the elementary and high school. I was hired part-time, working as a school nurse, attendance office, paper copier – anything that needed to be done I'd do it. Eventually they expanded the job to full time school nurse."
Family
Husband Joseph graduated from S.S. Seward and operates a family farm. Two children, Keith Lysack and Beth (Tim) Purta, both are S.S. Seward graduates, and she has and two grandchildren, Holly and Leah.
What has changed over the years?
Technology has made a big difference. It's made my job as the attendance officer a lot easier. I didn't have a computer so once a month I'd input all the attendance data in the district computer. Cellphones have made it easier to contact parents. The number of children having food allergies has grown.
What people don't know about you:
I teach Sunday School. I love to sing.
Idol growing up?
When I was younger there was a boy in the hospital with me when I was a patient. His mom was the nurse. She was so kind. I'd pretend to be her. My Aunt Mabel was a nurse. I looked up to her.
What do you hear most from people?
They tease me, "you're not retired?: I say, "please, tell me if it is time for me to leave."
What do you like about Golden Hill?
It's truly a big family. They just rally around you. I could not do this job without staff support. Parents are amazing. There is a total commitment, from the staff and the parents, for the kids to achieve their academic best. A joy is being able to reconnect with previous students when they now come to register their children for school.
Advice to someone starting out in nursing?
Follow your heart. If you are passionate about what you're doing, then it's not a job and you have made the right choice.