Florida UFSD Celebrates Staff Excellence at Mid-Hudson School Study Council Award Ceremony
This week, two Florida Union Free School District members were recognized at the Mid-Hudson School Study Council Award ceremony for their excellence in serving the district. Dana Castine, who has been with the district for more than 30 years, and Helen Arena, more than 20, have both shown their dedication to and passion for serving Florida students and the community. Surrounded by their district Board members and colleagues, Castine was awarded an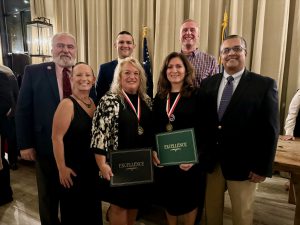 Administration Award, and Arena earned Support Staff honors. The district thanked them for being such important assets to the students, the community, and the teams they serve daily. 
Castine, the director of instructional services, began her tenure with the district as a teacher. Through the years, she has shown her commitment to the community's excellence and success by continuously taking on new and more challenging roles and responsibilities. The district is grateful for her knowledge and experience.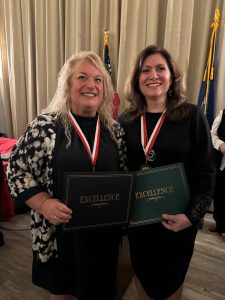 Arena has served seven superintendents as the superintendent's secretary and continues to create a confident and comfortable atmosphere for all incoming and returning staff and community members. Exemplifying flexibility and understanding no matter the situation is something the district is extremely proud of and grateful for. 
The Council encompasses school districts among seven counties in the Mid-Hudson region. Honorees were selected from a long list of nominations. The district congratulates the Florida UFSD award winners!