When Courtney Reicherter takes to the podium on Saturday to give her salutatorian speech, a lifetime of memories come with her. Courtney has been in the Florida Union Free School District since day one of kindergarten. Like many of the other graduates, she spent her entire educational life right here at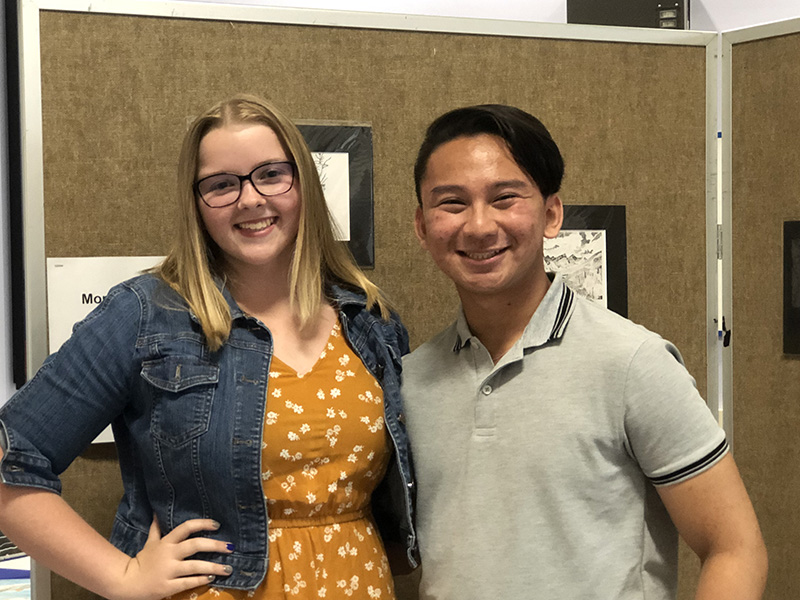 Golden Hill and Seward. It is an honor, she said, being the number two in her class, but it wasn't necessarily her goal. Her goal has always been to do the hard work.
"To me, being salutatorian is a great honor," said Courtney. "It means being recognized for years of struggle and hard work. I have worked hard for my entire high school career not with the goal of being salutatorian in mind but because I was raised to have a strong work ethic and value education."
Courtney said Seward has "amazing staff that only want the students to succeed." There is one teacher, though, who made the biggest impact on her.
"Mrs. Scheibling and I first started working together when I was a freshman and she helped me get involved with a virtual learning course that the school was offering," said Courtney. "Since then, we've gotten to know each other well and she has helped set me up with multiple internships and community service opportunities. She has taught me numerous lessons, listened to me rant, and given me advice that will carry me through this next chapter of my life."
Before getting to that next chapter, Courtney looked back at her time at Seward. She played JV volleyball her freshman and sophomore years. She is an active member of the National Honor Society and student council and participated in internships at a chemical engineering company and the New York ShopRite corporate office. She was one of five students selected to attend a youth leadership conference as a sophomore.
Her memories are happy ones. "My best memory from my time here at Seward is without a doubt the senior trip. Everyone who went got to know each other a lot better, made new friends, and walked away with memories we will cherish for life."
When she is not studying, Courtney likes kayaking, working out, baking, reading and spending time with her friends and family.
Her proud family includes her mom Keri Dawson, her dad and stepmom Phil and Robyn Reicherter, and her sister Stephanie.
Courtney will attend Binghamton University in the fall but hasn't decided on a course of study. She's always loved math and science but this year her favorite subject has been English.
"I am still trying to figure out what I want to study and am undecided," she said. "My goal is to pursue a career I'm passionate about, so when I figure that out, the decision will be easy."
There is time for that. For now, on graduation day Courtney will speak to her family, her peers and their families, and the Seward staff that has helped shape her education over the years. She is happy to have the opportunity.
"Being recognized for my hard work is not something I ever expected or wished for," she commented, "but it does feel pretty good."
Congratulations Courtney!!