Congratulations to our Seward spring scholar/athletes and scholar/athlete teams. Both the girls' softball team  and the boys' track and field team were recognized by the New York State Public High School Athletic Association (NYSPHSAA)  as scholar/athlete teams, which means at least 75 percent of the team had an average GPA of 90 or better.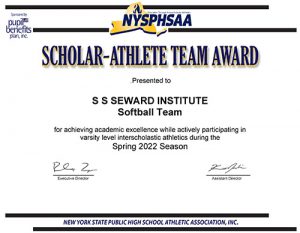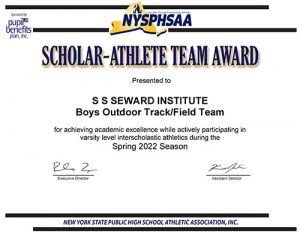 In addition, there were individuals who earned the scholar/athlete designation with a GPA of 90 or better.
Congratulations to all who work so hard in the classroom and on the field.
Team Scholar-Athlete Awards – Spring 2022
Individual Scholar-Athletes – Spring 2022
Alex Cotes-Aguilar
John Cutrona
Joshua Medina
William Orlando
Haley Carmack
Camila Fuentes
Raquel Hamling
Kristen Matuszewski
Katie Mulhare
Abigail Orlando
Stephanie Reicherter
Kailey Stolowski
Kaitlin Stolowski
Taylor Vogt
James Walse