Starla Ciarelli joined the Florida Union Free School District as its summer school principal but as of Aug. 7, she will be leading Golden Hill Elementary as its principal.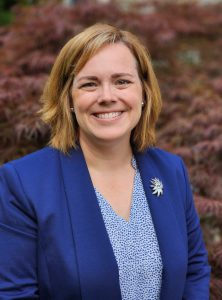 Current elementary school principal Deborah Lisack is retiring on Aug. 4, and the district will use the time both will be working in the district to give Ciarelli a chance to learn from her predecessor to help make  the transition between the two easier.
"They are doing amazing things here," Ciarelli said. "I just want to move it forward. I want to be able to highlight strengths and improve weaknesses so we can go above and beyond the high standard they are at now."
The community will have a chance to get to know Ciarelli at a meet-and-greet scheduled for 6 p.m. Tuesday, Aug. 22, at Golden Hill Elementary.
Ciarelli began her career in education as a mathematics teacher in Pine Bush High School, a position she held for a decade.
"During the last three years as a teacher, I was thinking about what I could do more with my students, really focusing on the data aspect," she said. "It was then I realized I could do more with teaching others on data-driven instruction by being an administrator."
Ciarelli earned her certificate of advanced study at SUNY New Paltz in school building leadership and school district leadership.
Her first administrative position was as assistant principal at Wappingers Junior High School in the Wappingers Central School District and Mahopac Middle School in the Mahopac Central School District. She then became the district coordinator for K-12 math, data and testing at Clarkstown Central School District in New City.
She said she missed the building-level interaction with staff, students and families so she returned to a building-level position as the principal at G.W. Krieger Elementary School in Poughkeepsie before coming to Florida.
"I grew up in a small district in Plattsburgh," Ciarelli said. "In Florida, I love the small district family vibe and the sense of community wherever you go. Everybody talks to everybody, and they are all willing to help people.
"In a small community I am able to know all the students, families and community members," she added, "and I am excited to start this journey."