2020-21 school budget prioritizes health and safety, stays below tax levy limit
* On Tuesday, June 9, Florida voters will decide on a $22,699,765 budget proposal for the 2020-21 school year.
* UPDATE: On June 7, NYS Governor Andrew Cuomo issued an executive order extending the deadline for mailed-in ballots to June 16, at 5 p.m. 
Votes will be cast by absentee ballot, only, as determined by New York state. Hand-delivered ballots must be received by the district office by 5 p.m. on June 9. Mailed-in ballots must be received (not postmarked) by 5 p.m. on June 16.
Through careful planning and cost and personnel reductions, the proposed budget keeps the tax levy increase to 2.29 percent. This increase is below the district's tax levy limit calculation as defined by the state law.
The current proposal increases spending by $12,545, or 0.06 percent, and reflects investment in the district's health and safety capacity, cyber security and data protection.
The proposal going before voters prioritizes support for existing academic programs, the continued enhancement of technology for instruction and data protection—while building additional capacity in the areas of health and safety by investing in cleaning supplies, masks and other personal protective equipment.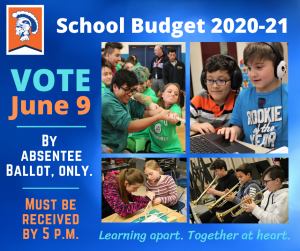 "Faced with a loss in New York state aid, and ongoing uncertainty for school districts, our priority remained to balance our educational mission with our fiscal responsibility to our taxpayers," said Superintendent Jan Jehring. "Through these challenging times, our school community has worked together to ensure continuity of learning for all our students and provide for their needs. We look forward to having our students return to school."
BUDGET AT A GLANCE
Proposed budget: $22,699,765
Proposed tax levy increase: 2.29 percent
Year-to-year spending increase: $12,545
Reduces six positions through attrition, reflecting decrease in enrollment and loss of state aid
Enhances health and safety protocols
Includes expenses associated with Phase I of capital project
Restructures resource allocation and staffing for continued enhancements in classroom technology, cyber security and data protection
Three-Part Budget Summary
Program Component: $17,651,770
Administrative Component: $2,449,450
Capital Component: $2,598,545
EXPENDITURES
General support
2020/21: $2,584,505
2019/20: $2,618,265
Instruction
2020/21: $12,252,535
2019/20: $12,326,895
Transportation
2020/21: $1,178,605
2019/20: $1,280,555
Undistributed
2020/21: $6,684,120
2019/20: $6,461,505
TOTAL EXPENSES
2020/21: $22,699,765
2019/20: $22,687,220
REVENUE
State, Federal Aid 
2020/21: $6,649,615
2019/20: $6,781,915
Tax Levy
2020/21: $15,598,470
2019/20: $15,249,960
Misc. (tuition, interest)
2020/21: $311,680
2019/20: $455,345
Fund Balance
2020/21: $140,000
2019/20: $200,000
TOTAL REVENUE
2020/21: $22,699,765
2019/20: $22,687,220
Also on the absentee ballot
Board of Education Election
Voters will elect one member to the Board of Education. The candidate on the ballot is incumbent member Coleen Connolly whose term expires on June 30, 2020.
Proposition 2: Purchase of two school buses
On June 9, voters will also decide on a proposition for the purchase of two 28-passenger school buses in the amount of $130,000.
The purchase would allow the district to retire two 14-year-old buses with over 100,000 miles each. Recognizing that older, high-mileage vehicles cost more to keep on the road, the replacement would reduce maintenance costs, and ensure safe and reliable transportation for all students.
State transportation aid will fund approximately 64.1 percent, or $83,330 of the bus purchase costs, over a three-year period.
Who can vote?
You are eligible to vote if you are a U.S. citizen, 18 years or older, a district resident for at least 30 days prior to the vote, and registered. If you are registered to vote in general elections you are automatically eligible to vote in school elections.
Absentee ballots
Florida UFSD mailed absentee ballots for the school budget vote and board election to all known registered voters in district, before Memorial Day weekend.  To request an absentee ballot contact the Office of the School District Clerk at (845) 651-3095.
How to vote by absentee ballot?
Ensure the validity of the ballot by signing the statement of absentee voter. Mail your ballot early, using the pre-paid return envelope. All ballots, must be received by the district office by 5 p.m. on June 9, whether mailed-in or dropped-off at S.S. Seward Memorial Building, 51 Main Street, Florida, N.Y.

How do I register to vote?
You may register with the Orange County Board of Elections by mail or online through the NYS Department of Motor Vehicles website at https://dmv.ny.gov/more-info/electronic-voter-registration-application
More information
The full text of the budget is also available for review during normal business hours in the S.S. Seward Memorial Building, 51 Main Street, Florida, N.Y.