Staff and students know Susan Moore well: she's been a leader at S.S. Seward Institute for the past 18 years as assistant principal. That changes on July 1 when Ms. Moore swaps offices and takes the helm as principal at Seward.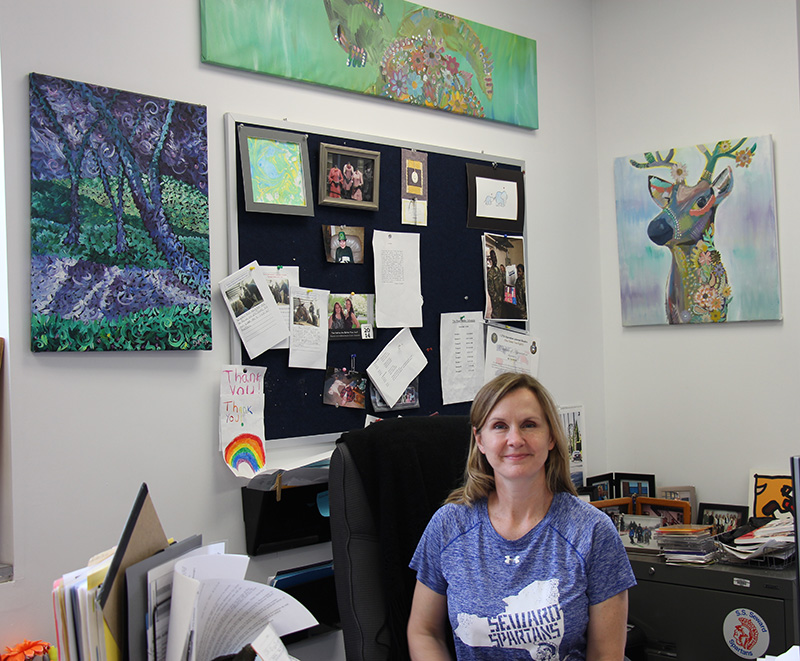 Principal Michael Rheaume announced his retirement in March. The board of education appointed Ms. Moore in April.
"Ms. Moore brings extensive experience to this leadership role," said Superintendent Jan Jehring. "She has demonstrated an ongoing commitment to helping students succeed. As we continue to address the health and safety issues of the pandemic, the continuity that Ms. Susan Moore is able to provide is critical to the reopening plans."
Indeed Ms. Moore brings continuity to the role, having worked with Michael Rheaume during his entire tenure as principal here at Seward. "We've been together for 16 years," said Ms. Moore. "He's like a brother. We're a good team and I'm really going to miss him. We complement each other."
Ms. Moore is ready for this. She received her undergraduate degree from SUNY Oswego, her master's degree from Canisius College in Buffalo and her administrative degree at SUNY Fredonia. She started her career at Erie 2 BOCES in Western New York as a school counselor. She was instrumental in getting special education students into CTEC programs at BOCES as part of their career building process.
"College, Career and Life Readiness has been a focus here for some time. We offer so many opportunities to learn about careers and how to get there," said Ms. Moore. "CTEC programs are another pathway for our students to learn practical, much needed skills that can lead to rewarding and lucrative careers. It's important that all students have access to programs and classes they want to take."
Ms. Moore is beyond proud of the students and staff here in Florida, especially during the difficulties of the last year and a half.
"We're the only district in the area that's been open five days since September," she said. "Our teachers, support staff, maintenance staff, school meals crew, school nurses and superintendent have worked so hard through all of this – we made it happen for the kids. We have such an amazing faculty and staff. We're a great team here."
And that goes for the students as well.
"We all strive for our students to have academic success. It's important for them, it's our goal," Ms. Moore said. "It's equally important for our students to be good people… and our kids really are good people. We get compliments from venues where we hold events, places that employ our students, even after sporting events. I'm so proud when I hear those things.
"We are sending them out into a world beyond Florida, N.Y., a world in which they will study, work and interact with all different kinds of people from all different places and backgrounds," she continued. "It is my hope that the skills and life lessons they learn here in our small school will serve them well, wherever they end up."
Looking forward, Ms. Moore is grateful for this opportunity and for the support she has received from the community. "I have the best students, parents, staff and community members that anyone could wish for," said Ms. Moore. "When I say I wouldn't be here if not for their support, that's absolutely true."