S.S. Seward social studies teacher Wendy Anderson was completely surprised one day as Principal Michael Rheaume, Assistant Principal Susan Moore and Superintendent Jan Jehring appeared at her classroom door one day this spring, something that doesn't happen often, especially in a pandemic.
The administrators were there to present Anderson with some good news – she had been selected by the Mid-Hudson School Study Council for a Teaching Excellence Award after being nominated by the trio.
"I was completely surprised by the nomination," Anderson said.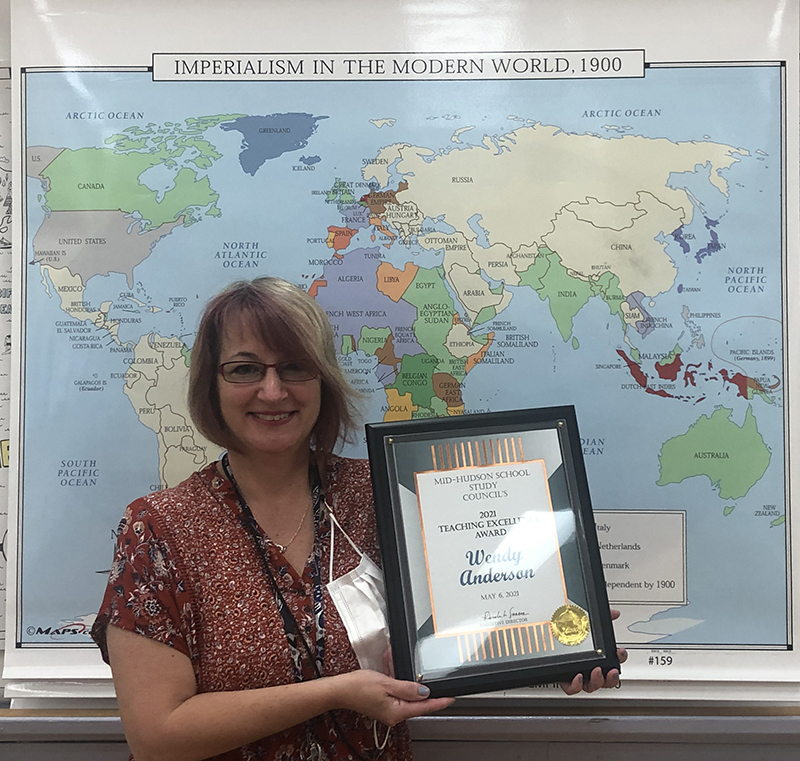 Her colleagues, though, weren't surprised at all that Anderson was being recognized.
"A great teacher impacts an entire community because their efforts, passion and commitment to children reaches far beyond the classroom," the administrators wrote in their nomination letter. "Great teachers lift up their colleagues to become better, inspire students to reach for the stars, and shape the culture of the community in which they teach. Wendy Anderson, who teaches Global 10 and SUNY at Orange College in the high school, is one such teacher."
Anderson came to the Florida district seven years ago, with 20 years of teaching experience under her belt. Social studies is her passion and her varied teaching career bares that out.
"I have taught on four different continents," said Anderson, who wanted to see the world after she graduated from SUNY Oneonta. She studied in Denmark and also went to the former Soviet Union to study at the Moscow Linguistic Institute.
She signed a two-year contract with a group called International School Services. Her first assignment was Cartagena, Colombia. She loved the culture, the students, and everything about her experiences.
After her stint in Colombia, she signed on to teach for two years in Egypt, another amazing experience.
She then lived and taught in England before returning to the United States. Her travels have definitely affected her teaching.
In their nomination letter, the administrators noted that Anderson has been a leader from day one and has embraced the notion that students must grapple with history through examination of documents, events and relationships.
She began the school's annual 10th grade 'Genocide and Human Rights' project-based experience which has students working in teams investigating a chosen genocide. They compile data, present a written study and create a living tribute to the victims in the form of an interpretive art piece. Students then participate in a museum walk that includes students from Seward, community members and teachers.
The event has become an integral part of the school and the 10th grade experience.  It has led to the creation of the 8th grade "Immigration to America" project, which is based entirely on the foundations Anderson created for her project.
Anderson shares her passion for social studies, social justice and creating opportunities for her students, including by leading the school's Youth in Government team. She serves as a mentor to colleagues and provides a strong and innovative voice to the district's Advisory Team. Anderson has advocated for the expansion of the district's college course offerings and has helped in the development and structure of a new course that explores race, culture and civil rights, which will begin next year.
During the pandemic, she has been a positive force for her colleagues and her students, teaching in-person and remote students synchronously.
"I love being part of this district," said Anderson. "In a smaller school, you really get to know your students. This is a great department, with much collaboration and camaraderie. I am grateful for this honor."