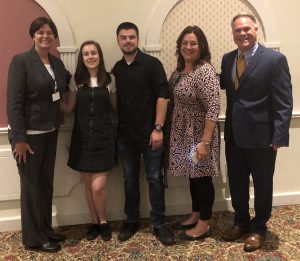 S.S. Seward Institute seniors Holly Blumenberg and Samuel Knecht were among 34 honorees from 16 school districts recognized at the 2019 Orange-Ulster BOCES Senior Scholar Humanities Breakfast.
The event, held April 25 at Kuhl's Highland House in Middletown,  honors outstanding artistic achievement in the region. Nominees must be in good academic standing and demonstrate above-average artistic engagement in music, art, drama, instrumental and choral programs. They are considered to have special artistic abilities and a passion for the arts that may not be recognized by traditional school programs and awards.
About Florida's Senior Humanities Scholars
Holly Blumenberg
Holly Blumenberg is an avid painter, has taken multiple art classes and has been commissioned to paint pictures by her teacher. She is a member of the National Honor Society, Youth in Government, and band. She is also an active member of her church and has performed with the hand bell choir for seven years.
Additionally, Holly is a member of Make a Difference, which performs community service projects, and has been in Girl Scouts since kindergarten.
Holly will attend Ramapo College of New Jersey this fall and will major in biochemistry. She plans to continue her education in graduate school.
Samuel Knecht
Samuel Knecht is president of Seward's select band and is president of the Spanish Club. During his four years in high school he also participated in the All-County Music Festival.
Samuel will attend the University of New Haven this fall, where he will major in forensics and then continue is education in graduate school.