Golden Hill Elementary School celebrated World Read Aloud Day on Feb. 3, and what a day it was! Principal Debbi Lisack arranged for a different author to read to each grade, virtually of course. The students had the opportunity to ask questions of the authors and discuss the writing process.
Mrs. Lisack contacted a number of authors from a large list she had. So many said yes and were excited to interact with the students.
Author David Kelly read his book, Miracle Mud, to fourth grade students who probably never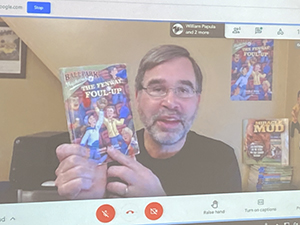 heard this true story of Lena Blackburne, a former major league baseball player, coach and manager, who discovered that a certain type of mud could make it easier for pitchers to grip new baseballs. His baseball rubbing mud was used for decades.
In addition to the authors coming in to read to kindergarteners, Mrs. Beneat read The Snowy Day to the class. As luck would have it, there was plenty of snow on the ground so the class went outside to make their own snowballs. In The Snowy Day, Peter wanted to save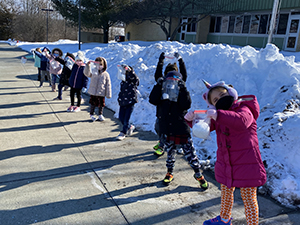 his snowball so he put it in his pocket. It melted, but these keen kindergarten students knew that to save their snowballs, the freezer was a better option! They packaged their snowballs in sandwich bags and put them in the freezer at school. The following week, Mrs. Lisack visited their classroom and they revisited their still-frozen snowballs!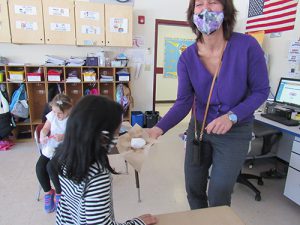 "Reading aloud is wonderful for children of all ages," said Mrs Lisack. "Everyone enjoys it and it's been shown to help students increase their vocabulary and their reading comprehension. It was a lot of fun and I'm so grateful to the authors who participated."