Everyone in Golden Hill Elementary School knows that Principal Deborah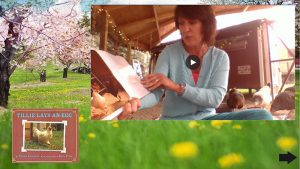 Lisack loves, loves, loves reading! Each month, she chooses a book and rides on her bike from classroom to classroom to read it to all of the students.
This time, she did something totally different and very fun, based on a project taking place in the kindergarten classes! The kindergarten classes are learning about the development of chicks . The eggs are incubating in classrooms now! So, Mrs. Lisack went to a real farm, with chickens all around her, and read "Tillie Lays An Egg," by Terry Golson.
The seven chickens on the farm in "Tillie Lays An Egg" take turns using the nesting boxes to lay their eggs. But Tillie doesn't want to wait to take her turn in the box. Read along with Mrs. Lisack to find out where Tillie lays her eggs .