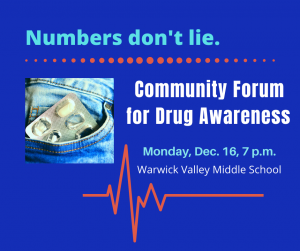 Parents of school-aged children are invited to participate in a Community Forum for Drug Awareness on Monday, Dec. 16, at 7 p.m., at the Warwick Valley Middle School.
Why it matters
30% of high school seniors say that heroin is easy to obtain; 13% of eighth-graders agree.
90% of prescription drug addictions start in the teen years.
27% of teens think that using painkillers to get high is safer than using street drugs.
Opioid related deaths in Orange County are three-times higher than in any other county in New York State.
Prescription painkillers claimed more American lives than any other drug in 2014.
About the forum
Community leaders and experts in drug addiction and prevention will facilitate  a discussion about the growing availability of drugs to school children and what parents can do to help keep kids safe.
Location:
Warwick Valley Middle School
225 West Street
Warwick, NY