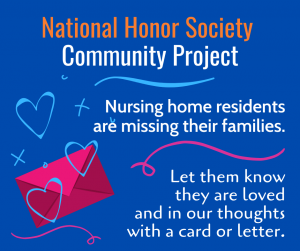 Student members of Seward's National Honor Society invite you to join a community project dedicated to our nursing home residents who are missing their families and friends at this time.
Starting May 5, and throughout the month, on Tuesdays &Thursdays, from 12-2 p.m., a bin will be placed outside Seward's main entrance to accept your cards and letters to our resident senior citizens.
Let them know they are loved and in our thoughts, no matter the distance. All Florida students and families are encouraged to take part.