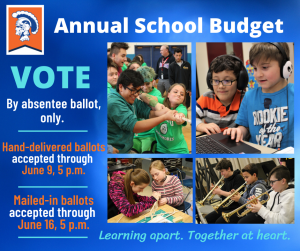 Pursuant to NYS Governor Cuomo's executive order, this year's school budget vote and board election is taking place by absentee ballot only. Districts had until 5 p.m. on June 9 to accept hand-delivered ballots. The deadline for receiving mailed-in ballots is today, Tuesday, June 16, until 5 p.m.
The annual school budget vote is an official public meeting. As such, and in line with social-distancing guidance, Florida UFSD will begin tallying ballots at 5 p.m. today, and livestream the process for public access. In addition, the ballot count will be conducted by election inspectors appointed by the Board of Education.
Livestream link: https://youtu.be/YgRtBis_V44
The unofficial results will be available on the district website as soon as the process is complete. The official results will be accepted at the June 18 Board of Education meeting.