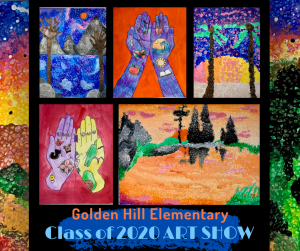 Golden Hill's Class of 2020 spent the last six years learning about art, discovering their creative talents and finding inspiration in Mr. Camia's art room. This spring, they had dreamed of sharing their artwork with the school community at their last Golden Hill Student Art Show.
As it turns out, creativity is also a necessary life-skill when things don't go as planned. In the absence of a physical art exhibit, they are ready to make history with Golden Hill's First Virtual Student Art Show, EVER!  
Art projects on exhibit 
"Hands"—The visual arts meet English language arts in this collaborative project with Ms. Mehan's ELA class. Inspired by the book "Amal Unbound" by Aisha Saeed, the drawings illustrate the students' hands holding objects that represent their past, present and future. 
Pointillism Landscapes — Following an introduction to the post-impressionist pointillist works of the late 19th-century, students emulated the technique by using Q-tips and applying dots of paint to their canvases. The result was a fantastic gallery of landscapes. 
A word from their art teacher
"It has been my pleasure to work with Golden Hill's graduating class for the last six years and watch them grow as artists and students," said Mr. Camia. "They will be missed!" 
Facebook photo album: A photo album of the fifth-grade artwork is also available on the district's Facebook page.