Bradley Vogt, a senior at S.S. Seward Institute, has been named a National Merit Scholarship semifinalist.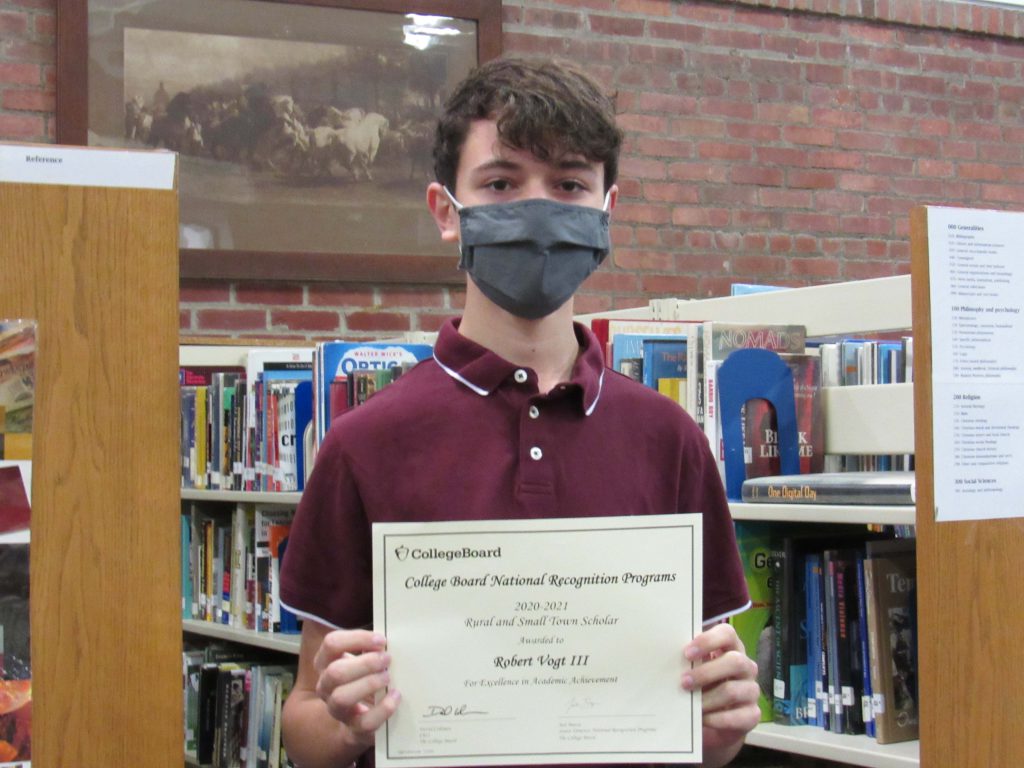 Bradley scored 1490 on the Preliminary Scholastic Assessment Test (PSAT), which is how juniors enter the National Merit Scholarship Program. The average PSAT score is 920; the highest a student can score is 1520.
"I was pleased with my score," said Brad.
More than 1.5 million juniors entered the 2021 National Merit Scholarship Program when they took the 2019 Preliminary SAT test. The nationwide pool of  16,000 semifinalists includes the highest scoring entrants in each state, less than one percent of the country's high school seniors.
"Hard work works, and Bradley Vogt has proven this in all that he does," said Seward Principal Michael Rheaume. "Being named a National Merit Scholarship semifinalist truly reflects upon the strength of character, commitment and intelligence he puts to use every day."
Bradley also received recognition from The College Board for excellence in academic achievement as a rural and small town scholar.
He is truly a well-rounded student and individual. He has always been interested in a variety of activities and topics, he said. He is a member of the Seward soccer and baseball teams and plays saxophone for the select band. Outside of school he skis, plays both guitar and flute, and enjoys spending time with his friends.
"Studying all the time is not a good idea," Bradley said. "You lose your focus on other things that matter – friends, sports. You'll get bored and not enjoy it. I enjoy learning. It's all about balance."
He hasn't had many academic disappointments in his scholastic career but Brad looks at them as learning experiences. "It's more about learning from what you do wrong and doing better going forward," he said.
"We would like to congratulate Bradley on this great accomplishment," said Greg Geroux, his guidance counselor.  "He has always shown his ability and has been recognized locally through his academic performance, but is now being recognized nationally."
Bradley, who has gone through the Florida Union Free School District since kindergarten, was especially inspired by his ninth-grade science teacher, Ernest VanderKruik.
"Living Environment wasn't a subject that would have been very interesting to me but it was because of Mr. VanderKruik," said Bradley. "It was cool to see someone so passionate about what he was teaching. He made it super fun and easy to learn."
Bradley plans to study computer science and physics in college. He is interested in the programs at Boston University, Penn State, Rensselaer Polytechnic Institute (RPI) and State University of New York at Binghamton.
To become a finalist, Bradley has worked with Geroux, to complete a detailed scholarship application that includes his academic record, participation in school and community activities, leadership abilities, employment and honors and awards received. He also had to write an essay. The National Merit Scholarship Program will announce its finalists in February and from that list of finalists, the Merit Scholars will be named in the spring.
"The Spartan Nation reveres his recognition and congratulates Bradley, his mom and dad, brother and sister, and all of his teachers, on the tremendous recognition he has received," said Rheaume. "Bradley is a shining example of taking your talents and putting them to good use. He will certainly continue to impress us all in the future."