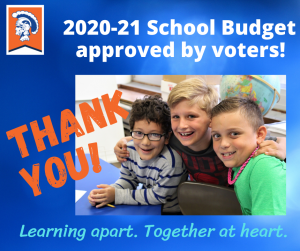 On Tuesday, June 16, 2020, voters of the Florida Union Free School District approved the 2020-21 school budget with 660 votes in favor and 330 opposed.
The unofficial results showed that 66.7% of 990 total voters supported the district's $22,699,765 spending plan proposal.
The approved budget increases spending by $12,545, or 0.06 percent, from the current year. The tax levy increase of 2.29% is below the district's tax cap calculation, as defined by the state law, therefore the budget could be approved by a simple majority (50 percent plus one).
Proposition 2
Voters also approved the purchase of two school buses at the cost of $130,000 by a vote of 662 to 328.
Board Election
Voters elected incumbent Coleen Connolly to the Board of Education with 811 votes. Her three-year term will commence July 1, 2020.
"I want to express a sincere thank you to all of our community members who participated in this important civic act," Superintendent Jan Jehring said. "Your engagement and support are always appreciated."
The official election results will be accepted at the Board meeting on Thursday, June 18.