Seward senior and varsity basketball athlete Alexa Roach made history at the end of her last regular season with the Spartans by setting two, new scoring records over the course of four days and two games.
In a match against Liberty High School on Feb. 20, Alexa's total points reached 1,664, a new record for Seward's girls basketball. The previous record of 1,663 was held by Jenny Leo since 1987. Then, on Monday, Feb. 24, Alexa spiked her total to 1,723 with a 3-point shot and became the school's new, all-time leading scorer. The previous scoring record of 1,722 was set by Michael Hoyt in 2003.
Michael Hoyt, past all-time leading scorer, pays tribute to Alexa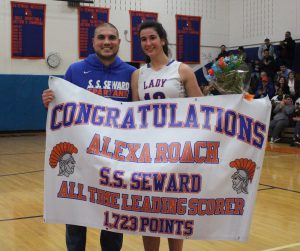 Michael Hoyt, now a second-grade teacher at Florida's Golden Hill Elementary, was at the record-breaking game on Monday night.
"Earlier in the year, I started hearing that Alexa might break the school record, and I was hopeful she would!" Mr. Hoyt said. "Then last week I heard she might do that on Monday night, and I just had to be there! I was even more excited to bring my daughter Avery along and share that moment with her. She's only four and a half, but I think she got the gist of it: 'Dad scored a lot of 'buckets' at this school, and now a girl who's a really good player is going to score even more than Daddy!'"
And that she did!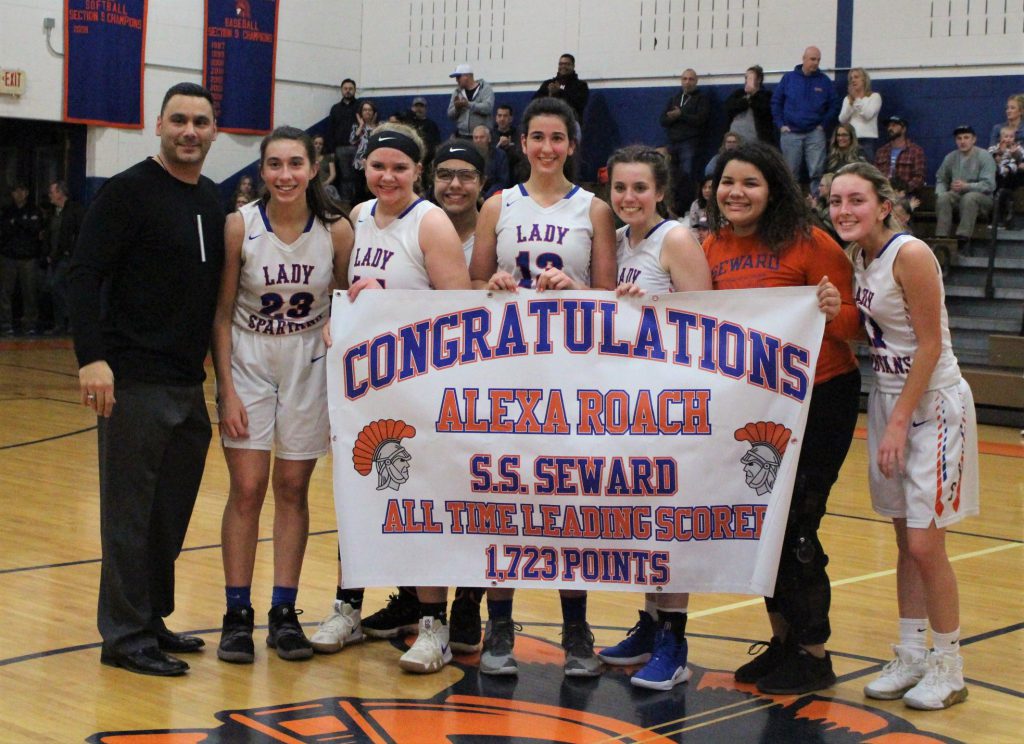 In Alexa's own words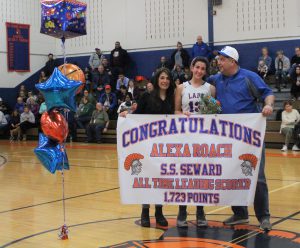 "Achieving this milestone is validation that my commitment and hard work have paid off," Alexa said. "Knowing that it came with team success over my varsity career makes it even more special." Always the team player and leader, Alexa insisted that the achievement was bigger than herself. "This isn't just about me. It means success for the school and it's a product of the bond I have built with my teammates. I also want to thank my family, coaches, and teammates for always believing in me and for always supporting me."
Alexa's legacy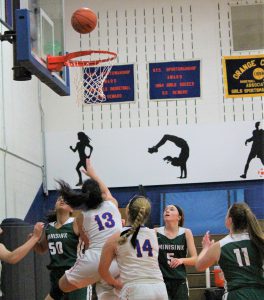 A three-sport athlete, Alexa has made wide-ranging contributions to Seward's athletics. "Alexa is an outstanding overall athlete," said Co-Director of Athletics Joe DiMattina. "She started playing basketball in eighth grade, and, at the varsity level, she was determined to improve her game every year. Her accomplishment is the true meaning of hard work and dedication to the sport, and a tremendous achievement that I hope trickles down to more players wanting to play basketball."
Playoffs start next week and Alexa is sure to keep on scoring!
---
Photo credit: Francesca Gallardo