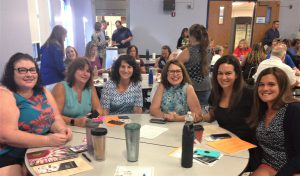 They are back, recharged, and excited to welcome your children to our buildings, classrooms and fields tomorrow, Wednesday, Sept. 4!
Early today, Tuesday, Sept. 3, Florida faculty and staff filed into S.S. Seward's cafetorium and reunited over breakfast for the Opening Day of the 2019-20 school year.
Board President John T. Redman offered them a warm welcome, spoke of challenging and exciting times for Florida schools, and thanked everyone for their role in ushering in another great school year for our students.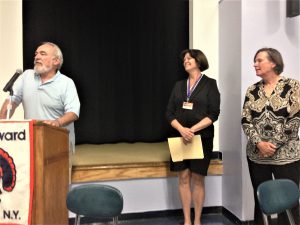 Superintendent of Schools Jan Jehring thanked all 12-month employees for their summer-long efforts to prepare our schools for a new academic year, and she laid out the District's vision for offering the best possible education to our students, while providing faculty and staff with the supports and training they need to move the District forward.
"This is my 35th opening as an educator," Superintendent Jehring said. "No matter the changes and challenges we may be facing, the message doesn't change: we're here to help children learn, and every one in this room is a partner in educating and serving our students."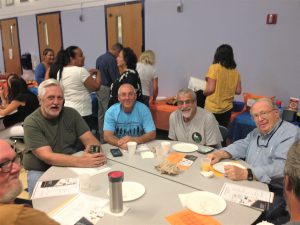 She highlighted Florida UFSD's increasingly high-performance as evidence of the District's continued success delivering its educational mission. "We began by aiming to perform at state-level but, three years later, we are now tied for third among the highest-performing districts in Orange County," Superintendent Jehring said.
She offered the one-year, 11-percent increase in ELA scores as an example of our schools' continued improvement in learning standards.
Celebrating other points-of-pride for Florida schools, Mrs. Jehring highlighted the following:
Golden Hills' adoption of eSpark, a differentiated online learning resource for elementary math and reading that meets students at their skill level with engaging, kid-friendly activities;
S.S. Seward's 60+ college credit offerings; 40+ courses in Career & Tech Education;
A new, interactive Distance Learning program and classroom for high school students;
S.S. Seward's focus on community involvement and the students' 3,000+ hours of community service in 2018-19.
Superintendent Jehring encouraged staff to get involved and contribute their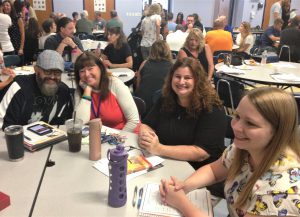 voice and experience to various District committees devoted to improving academic and social-emotional learning for all Florida students.
Recognizing the personal and family demands placed on every faculty and staff member, she encouraged everyone to find a healthy balance and believe that what they do makes a difference.